Hi friends! Happy Monday! So recently we received a sample palette in a Pigment+Palette box of Golden's newest line of paint, the QoR Modern Watercolors (pronounced "core" as I've recently learned!).  I was super excited to try them out, as Golden is one of my most favourite paint companies! I'm in love with their acrylic paints and mediums, so I was really excited to learn that they have released a line of watercolors!
I took my time and tried out the watercolours in various paintings.  After playing around with them for a while I now feel like I can express my opinion on these new watercolours.  So first, let's have a look at what Golden is saying about these paints! The following list are what Golden claims to be the key points of this new watercolor line:
They act just like you would expect watercolors to act – transparent, fluid, subtle – but they also have a degree of vibrancy reminiscent of acrylics that other watercolours don't possess
They have a very low colour shift – this means that the colours remain vibrant, even after drying (a notorious hallmark of most standard watercolours is the color shift resulting in much lighter, duller colors after drying)
They contain a unique binder called Aquazol, which enables the mentioned vibrancy, but also provides a greater flexibility and protection from cracking than other watercolours.  Perhaps they're using their acrylic paint technology and applying it to watercolours?!
So these paints sound pretty darn cool. I had fun playing around with them in various paintings.  One thing I noticed off the bat is the vibrancy of the colour.  Once the paint was activated, it flowed in beautiful bright colour.  I was instantly in love with the cobalt teal colour!
I used them in my watercolor fox paintings as well, glazing the orange and quin gold colours over dried layers of my other watercolours.  They really added a nice touch of extra saturation and vibrancy to the painting.
Next I wanted to test the color shift.  I experimented with the purple in this little galaxy-inspired painting, painted on the little square of watercolour paper that comes with the sample palette.  I found that I had to use less of the purple to keep the same saturation of the magenta and blue of my own watercolours.  It was a bit tricky though, as I'm so used to being liberal with my colours anyway.
Alright, so basically my thoughts on these paints is that they're beautiful and vibrant, and come in some amazing colours.  Are they worth replacing your current watercolours? Well, that depends.  Like I said, I'm quite used to preparing for and dealing with the natural colour shift that occurs with watercolours, so the vibrancy of the dried QoR watercolours didn't really have a huge effect on the outcome of my paintings, as I just used more of my other paints to compensate.
Where I think these paints will really shine is for the beginners to watercolour.  It can be so frustrating when you're starting out with watercolours, and I really think this line of paints can certainly help ease that pain.  The beautiful vibrancy and decreased colour shift can really help a newbie handle the discrepancies that painting with watercolor can create, especially if you're venturing into watercolor from other paint mediums like acrylic or oil.  Not having to worry so much about what the paint will look like after it dries can save a few headaches, and let you deal with the other frustrations of watercolor, like your paper buckling on you 😉
The other advantage to this is that less paint has to be used to create vibrant colours, so you don't have to worry about going back over your painting multiple times to build up saturation, thus risking bleeding your colours into other still-damp areas of the paper by accident, or being a little too rough with your paper and damaging it due to constantly re-wetting and applying more color (because let's face it, anyone using watercolors for the first time never lays down enough pigment the first time!)
Which leads me to my final point: Using less paint on the paper means less paint is wasted when you inevitably make a fatal mistake and have to scrap the entire painting.  I'm speaking from experience, here! Being new to watercolours can be heartbreaking! 
So my final thoughts on these new watercolours is that they can certainly benefit the newbie to watercolours, but for an artist already familiar with the medium, I don't think they're revolutionary enough to replace your whole stash, although I for one plan on buying a few choice colours to add to my collection, just because they're gorgeous! *cough* cobalt teal *cough*
So there you have it, guys! I hope you've found this review useful, and if you're interested in trying out these paints for yourself, I hope you'll click my affiliate link below to Dick Blick, who sells them for a great price! (Please note that I will recieve a small commission for your purchase, which helps me keep my website running, so thanks!)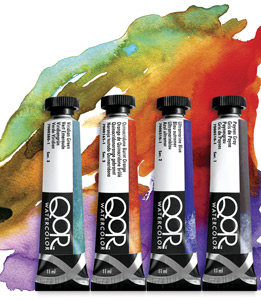 QoR Modern Watercolors
from: Blick Art Materials
If you've tried these paints, what are your thoughts on them?? Let me know in a comment below! Thanks so much for stopping by, and til next time, keep creating!
-Ashley <3