Hey friends! Today I'm going to review Golden's new High Flow Acrylics line of professional paint.  These are meant to replace the former air brush paints, which I personally have no experience using because I don't work with air brush systems.  These new paints, however, are marketed towards more than just air brush artists, with the paints being able to be used in pens and markers as well as air brush systems.
They come in a wide range of colours – 49 to be exact –  and include all our standard favorite acrylics colours like titanium white, cerulean blue, and burnt sienna, but also include 4 irridecent colours and 5 flourescents! So these really fit the bill for a great range of both colour and versatility in all art forms.  Let's take a closer look at them!
---
I tried out two different sets from Golden:
The Drawing Set, which contains 10 different colours in 1oz bottles aimed at graphic artists. It contains Titanium White, Carbon Black, Neutral Gray N5, Hansa Yellow Medium, Quinacridone Magenta, Teal, Indigo (Anthraquinone), and the three metallic iridescent colours of Iridescent Gold (Fine), Iridescent Copper (Fine), and Iridescent Silver (Fine).
The Marker Set, which contains 5 different colours in 1 oz bottles and 3 empty markers to use with them. The colours included are Transparent Dioxazine Purple, Anthraquinone Blue (Indigo) (this is the same colour as in the Drawing Set), Green Gold, Fluorescent Pink, and the remaining iridescent colour Iridescent Pearl (Fine). The 3 marker sizes are 15mm chisel, 2mm nib, and 1mm nib.
Let's Get Painting!
I filled my markers and started playing around with them first, as I was curious to see how well these paints hold up in marker form.  The instructions state that some iridescent and fluorescent clours require the large marker format, as they may clog smaller nibs, so I chose to use the Copper in my biggest marker for those reasons. Besides, how convenient will it be to be able to lay down some metallic paint on a canvas with the control of a chisel tip marker?!
I knew I wanted that fluorescent pink in a marker as well, so I chose to put it in the second largest nib just to be safe. This left me with the thinnest marker, and I had a hard time deciding what should go in it.  I finally picked Teal, as that's a colour I am absolutely in love with, and the idea of having the ability to lay it down in precise dots and lines intrigued me. (I already have an acrylic white paint marker from Krink, otherwise I would have put Titanium White in my thinnest marker for nice precise highlights).
The markers were very easy to fill and use (watch for my demo of them in tomorrow's video!). The big chisel tip marker took some extra pumping to get started, but that nib is so large it was understandable.  Once it got going, it stayed full of paint and laid down the colour flawlessly, just like the other two markers.
I then started playing around with the paints in my art journal, splashing and throwing the colour directly from the bottle. I used glass bead gel, light molding paste with stencils, and self-leveling clear gel over scrapbook paper to see how these paints work with other acrylic materials.
They work beautifully with all other mediums, I'm happy to say! Look in this picture how the colours flow together and cover the stencils.  Some of the colours are semi-transparent and some are opaque, and seeing them mix around and in with the iridescent colours makes a beautiful mess.
I did notice that laying the colours down overtop of super wet paint does make them feather out, so I waited until my page was completely dry and tried again.  This time the paint flowed beautifully and stayed where I wanted it to, so as long as it's being applied over a dry surface it will stay where you want it and not feather or bleed out.
When applied to a canvas sitting up, these paints immediately run down, allowing some quick and easy dripping-looking paint effects.  What's even better is that these paints are super pigmented and saturated, so they stay bold and beautiful in their dripping-looking effects, whereas paint would otherwise look a little thinned out if using the traditional spray bottle on the colours to make them run.
So basically, to conclude this review, I really have no complaints about these paints! My expectations from Golden are always high, as they're my favorite acrylic paint company, and they did not dissappoint. These paints are totally free flowing like ink or watercolor, but have the pigmentation and flexibility of acrylics.  They can be easily mixed in with all other acrylics paints and mediums (I even used them to tint some coarse pumice gel and used them with a palette knife on my new purple-gold painting I have in the works).
The markers provide a new way to use the paints and broaden the available art-making methods using acrylics. I love that these markers can just as easily apply paint to paper as they can to canvas, giving the ability to create some really crisp, graphic lines to canvas artwork.
The colour range these paints come in is spectacular.  You can find your favorite traditional colours to work with, along with some super fun florescent and iridescent colours to add some pop to your work. Splatter them, streak them with a marker, mix them in with mediums, or treat them like watercolours – the choice is up to you.  And that kind of creative freedom is what a new paint line is all about.
Well done, Golden.
Have you tried the new High Flow Acrylics from Golden yet? Let me know in a comment what you think, or if you plan on trying them out soon! I can't wait to get my hands on some more colours! Those flourescents are really calling my name!
If you'd like to try these paints out for yourself (including the sets I have or individual colors), you can buy them from Dick Blick by clicking here!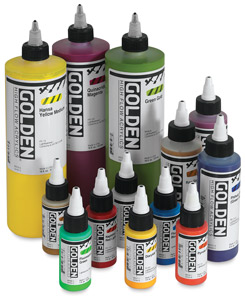 So that's all for now, guys! Be sure to watch my demo of these paints (including the markers) by clicking here, and till next time, keep creating!
-Ashley <3
**Disclaimer: This post contains affiliate links to Dick Blick, who I believe to sell artist materials at the best prices possible. If you choose to make a purchase from my links, I will receive a small commission, which helps me host this website and continue to provide free reviews and tutorials, so thanks for your support!
***I was not sent these paints for review, however I did not pay for them as Golden used a couple of my previous YouTube videos in a convention, and I was given these two new paint sets as a thank you. I decided to try them out and do a review of my own honest opinions because they are a new line and I wanted to let you guys know what I thought about them. Thanks for reading!