Hi guys! It's Monday again, and today I wanted to share with you my impression/thoughts/review of the Gelatos pigment sticks by Faber-Castell. (Please note that I have included affiliate links to Dick Blick that I hope you'll use if you decide to try these for yourself!)
I found these by accident looking through my local Michaels store, and I had no idea what they were when I bought them.  They were found in the scrapbooking/art journal supply section.  I was buying another Gellyroll pen and saw them hanging there calling my name with their pretty vibrant colours. So I picked up a pack and decided to give them a try.
Each set comes with 4 gelatos and one blender stick, plus one brush for blending, stippling, and whatnot. When I first tried them out, I immediately thought they reminded me of crayons, but they're much softer, like an oil paint stick.  I took the brush and started blending them around, and to my surprise they blend and smooth out really well! I then added a bit of water and they ended up smoothing out even more!
I then played around with the tubes, drawing into wet paper and on top of gesso and various acrylic medium pastes.  They all took well and the gelatos remained vibrant.  I made dots by vertically pressing the gelato sticks onto the paper, then slightly twisting to get a little circle shape.  It wasn't perfect (though I liked the odd little half-circles it made) so I took the blender and repeated the twisting overtop and blended them into little circles.  Here's an art journal layout I did entirely with my gelatos over gesso:
They blend very smoothly, but still retain a bit of texture to them.  I think they're perfect for art journals and any mixed media artworks!  I even used the magenta-colored gelato in my Valentine's Day inspired altered canvas:
I can see myself using these in many mixed media works! You can even use a stamp to remove the gelatos from the paper after laying down a colour for an embossed-grunge look.  I need to get more of these things! They're available in a wide range of colours, and even in a couple large sets! The available colors are gorgeous, and I look forward to further experimenting with these pigments! Here's a few small sets that are available:
So what do you guys think of the gelatos? If you have experience with them, I'd love to know your thoughts in a comment below! And if you're interested in trying out some Gelatos for yourself, I would appreciate it if you used my affiliate link below to browse Dick Blick (their prices are great, even cheaper than Amazon!)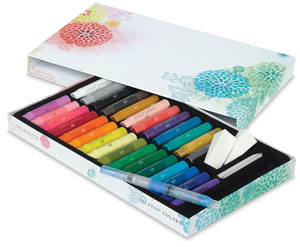 Faber-Castell Gelatos Sets
from: Blick Art Materials
So that's it for now, guys! Thanks so much for stopping by, and till next time, keep creating!
-Ashley <3