Hi friends! Happy Friday! I mentioned this product in a couple of our recent watercolor-related videos, but I wanted to take the time to write a dedicated post about it because it's truly something I think everyone who likes working with watercolors should try at least once: Aquabord by Ampersand. (Please note that I've included an affiliate link to Dick Blick that I hope you'll use if you decide to try Aquabord for yourself!)
Aquabord is a flat panel that accepts watercolor, gouache, liquid acrylics, and basically anything else you could put on watercolor paper. It works with mixed media and collage, resin, you name it! It comes in different sizes, all the way up to large painting sizes like 24″x36″, but looks equally as nice at the small size of a little 4″x 4″ square (perfect for watercolor-colored  Zentangle art!). They're available as flat, thin panels (like watercolor paper) but can also be purchased cradled with pretty wood sides, so they can look just like a canvas!
The thick sides lead one to think…then how can I frame my watercolor painting if the aquabord has 2″ deep edges? Well, you don't! Aquabord doesn't need to be framed, so you can hang your watercolor paintings without glass, letting the richness of your colors be enjoyed without the glare of a glass panel. I just give mine a nice spray with a spray fixatif and matte aerosol varnish spray to make sure it's protected from dirt and humidity. Of course if you have the flat panels, they are thin enough to fit in any standard frame, so the option of framing your work is still available to you (I gave my mom a framed watercolor painting on aquabord for one Mother's Day).
So what advantages does aquabord have over watercolor papers? Aquabord is tough! Any watercolor mistakes can be scrubbed and lifted right off the board without worrying about damaging your paper. The white color of the board is also super crisp, giving watercolors a brilliant luminescence to them. And the board will never warp or buckle on you, letting you create a large watercolor painting without dealing with the wrinkling that a large sheet of paper will start to do.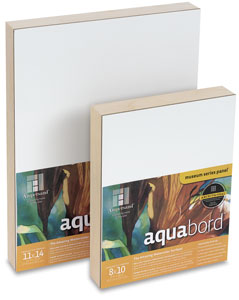 Ampersand Aquabord
from: Blick Art Materials
I truly believe that aquabord is a great choice for any painter, but especially for beginners because it's so much more durable and forgiving than watercolor paper. It's also perfectly fine to get the board really wet as it won't warp or wrinkle like paper, which is important for beginners because we generally use too much water with our watercolors when we're first starting out experimenting with them.  With an aquabord you can get it super wet, dab up the excess water, and put more paint on all without oversaturating your painting surface or causing tears in it.
So let me know in a comment below what your thoughts on aquabord are if you've used it before! I wanted to write this post to make sure the beginners out there know that there is another option besides watercolor paper if you're getting frustrated with learning watercolors! Avoiding mixing muddy colors is hard enough with watercolors, not having to deal with a wrinkling and buckling painting surface is one less thing to worry about!
And if you do decide to give Aquabord a try for yourself, I'd appreciate you using my above affiliate link to Dick Blick! Their prices are very good, and the small commission I'll make from your purchase will help me to keep this website running, so thanks!
Till next time, keep creating!
-Ashley <3